Congratulations on an amazing school year! We celebrate the success all of you have had, and we are grateful to have had the opportunity to support you and your students this year in math learning. Remember that ST Math and JiJi are here to support continued learning throughout the summer at home or in the classroom.
While you are winding down the school year, we are thinking ahead to next year. We have some great new enhancements to ST Math coming for the fall. You can read more about them at stmath.com/whats-new.
Today we are giving you a sneak peek into some of the changes for the fall and launching our new educator console. We heard your feedback and made some enhancements:
Enhanced reporting - See the most important metrics for your whole class – all at a single glance. Customize the columns so that you see the information you want in the order you want.
Easier navigation - We now have breadcrumbs at the top of the screen that will leave a trail as you navigate, and our new peer navigation will help you quickly switch between students and classes.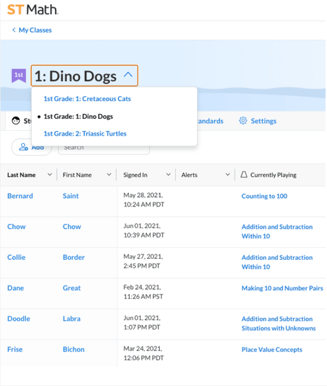 Embedded help - See immediate tips for success right in the console.
We've also prepared some information to help you make the most of the new educator console.
We hope everyone has a fun and safe summer filled with everything needed to recharge for the 2021-2022 school year.
If you have other questions, check out ST Math Help or contact us at support@mindresearch.org or 888-491-6603. Thank you for all that you do for your students!